Founded: 1937
Primary Products and Services
Ray-Ban sunglasses for men, women and children, most notably the classic Wayfarer and Aviator models.
Click here for the Ray-Ban catalog of products.
Company Story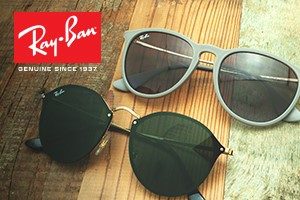 The Ray-Ban brand was launched in 1937 with the introduction of a new green lens to eliminate the glare encountered by U.S. Army Air Corps pilots. After the war, the brand became a part of American popular culture when its Wayfarer model was worn by James Dean in "Rebel Without a Cause" and Audrey Hepburn in "Breakfast at Tiffany's." Later, Ray-Ban models would be worn by Robert De Niro in "Taxi Driver," Peter Fonda in "Easy Rider," Clint Eastwood in "Dirty Harry" and were favored by musicians Bob Dylan, Michael Jackson and Indie rocker Johnny Marr, among many others. The brand rapidly became iconic with outdoor people. Through every decade of its existence, Ray-Ban has shaped popular culture. Never just a transient trend, Ray-Ban eyewear marks out the wearer as an individual of taste and discernment. And now, seven-and-a-half decades after the first pairs of Ray-Ban Aviators helped U.S. pilots reach new heights, Ray-Ban remains an enduring classic.
Click herefor a short video interview to learn more about the Ray-Ban story.
Brand Personality
"Classic cool" defines the Ray-Ban brand. For over 80 years Ray-Ban has been forging its name as the most iconic eyewear brand. Our glasses tell a story through decades, trends and the people that wear it…timeless style, authenticity and freedom of expression are the core values of Ray-Ban. Ray-Ban prides itself on being at the forefront of cultural change, a symbol of self-expression worn by celebrities and public figures all around the world.
Buyer Persona
The Ray-Ban customer is active, culturally attuned and drawn to the brand's marketing campaign "Proud to Belong." Ray-Ban customers are about seeing and being seen, and ownership of one's own individuality, of dictating who they are instead of being told. But most of all, it's about sharing what it is to be you, with people who understand it. It is about the feeling of belonging, not conforming. Ray-Ban customers are drawn to products with timeless style and authenticity.
Demographics
Popular with any age group with active lifestyles who seek quality, and who are in tune with popular culture.
Customization and Personalization
Ray-Ban products can be personalized for corporate gift-giving by adding a custom cleaning cloth design or placing a logo on the sunglasses case.
Event Gifting
Ray-Ban Sunglasses are available for corporate event gifting. The Event Gifting Experience delivers an all-inclusive, on-site gifting solution to leave guests with a lasting positive impression of your company. Customers receive a Ray-Ban gifting station with the most popular styles. Your guests interact with an expert and walk away with a product choice that they love. International solutions are also available, including web redemption sites.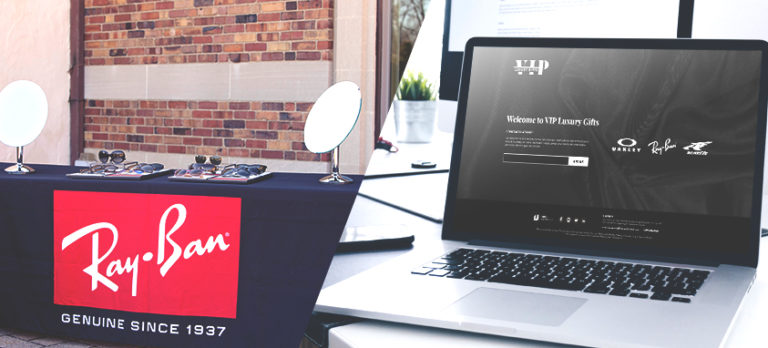 Where to Source
Links Unlimited is a leading Master Fulfillment Company that provides authorized access to the Ray-Ban line for use in incentive, recognition, loyalty, corporate- and event-gifting, and other related business applications.
Reseller Policies: Links Unlimited works with all types of clients through their incentive, recognition, promotional, loyalty, marketing and management consulting firms.
Contact
corporatesales@linksunlimited.com
Catalog Website
(877) 347-8875
When contacting a BMC supplier, be sure to say you are a Brand Media Specialist or calling from BrandMediaCoalition.com.
Or, contact the Brand Media Coalition for confidential requests.
---