Founded: 1975
Primary Products and Services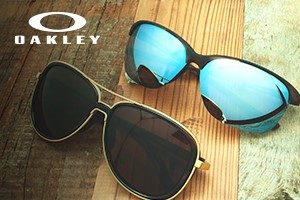 Oakley is known for sunglasses and eyeglasses for men and women; apparel, including hoodies and sweaters, polo shirts, T-shirts, pants, shorts, board shorts; and accessories, such as backpacks, hats and beanies, cycling and mountain biking helmets, jackets and vets, sneakers, books, sunglass and eye-glass accessories. Sunglasses include prescription; polarized, and the Prizm high-clarity technology.
Popular styles for men are Holbrook, Flight Jacket, Frogskins, Split Shot and Sutro; for women, styles include Unstoppable, Reverie, Low Key, Reve Up, and Top Knot. The company also has its Capsule Collection and Limited-Edition lines.
Technologies include its Prizm line of sunglasses with High Definition optics, and innovative fabrics for apparel, and hundreds of patented items.
Click here for the Oakley catalog of products.
Company Story
Headquartered in southern California, Oakley is another case of a visionary innovator with a love of his craft who turned a tiny idea into one of the world's best known and most iconic brands in eye wear and related accessories for the active sports enthusiastic. The Oakley customer pays more to get the latest technology advancements in products made to withstand the most rugged activities, which helps explain why it is an active sponsor of extreme sports and their most rugged, trend-setting stars.
The founder, James Jannard, started the company with about $300 in his garage making a motorcycle handle that used a type of rubber he called hydrophilic, which he patented with the name of Unobtanium. He named the company after one of his pet dogs. Bikers appreciated it for its grip, and moisture-shedding characteristics, and the material is still used today in Oakley frames. He expanded into bicycle handles, then moved on to design and manufacture a variety of accessories for bikes as well as cross bikes. By around 1980, the company launched a protective O-frame goggle and a few years later came out with its first line of ski goggles.
The brand got its big break in 1985, when it sponsored the cycling super star Greg Lemonde on the Tour de France, who wore its new line of Oakley cycling glasses that evolved into Oakley Blades and eventually the Razer Blades. Oakley launched its first sunglasses for the general public in the early 1990s, continuing to emphasize its rugged, athletic design focus. In about 2005, the company launched what become one of its most famous lines—the Oakley Holbrook. Once again, a cyclist Valentino Rossi helped bring fame to the line, along with the help of many others. While still a goggle with the sporty style and bright colors Oakley has known for, the Holbrook has more toned-down look of appeal to more casual styles. That said, the Oakley brand continues to support its core audience of cycling, skiing, and other sports enthusiasts and extreme athletes, because much of the company's designs are developed with extensive input from athletes and field testing—usually in extreme conditions. This helps explain why Oakley is also known for its U.S. military and law enforcement eye protection products—the company's M -frame sunglasses are widely used, and the company is even experimenting with a 'golf hovercraft' to replace traditional golf carts for all-terrain use.
Click herefor a short video interview to learn more about Oakley story.
Brand Personality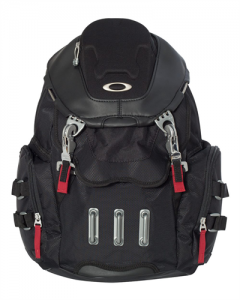 Oakley is a high-end active sports and lifestyle brand with a focus on technology and innovation that improves the quality of peoples' lives. The brand is associated with ruggedness and competitiveness, style, and a joy of action and entertainment. Oakley seeks to address both functional needs and the desire for exhilaration and high performance. The focus on sports is so important, the web site enables people to shop by sport as well as by gender and type of product.
Buyer Persona
The Oakley customer feels young; bold, courageous, true to themselves, with a taste for challenge and extreme conditions. Oakley customers have an appreciation for quality, design, and edgy style with a touch of flair, and are interested in technology and the latest products. They are aware of trends but not necessarily driven by them, and they will pay more for quality but are conscious of price, given the younger demographics of the brand.
Demographics
The Oakley brand skews young and masculine—under age 40 or people who feel young, are highly active, and who spend money on entertainment, sports, and are more likely to participant in more extreme sports, such as mountain biking, bicycle motocross, snowboarding, surfing, etc.
Endorsements and Sponsorships
Oakley sponsors sports and athletes on the more extreme, individual side, including BMX (bicycle motocross), motorsports, mountain biking, cycling, multi-sports, skating, skiing, snowboarding, surfing, and baseball.
Customization and Personalization
Oakley products can be personalized for corporate gift giving. Oakley sunglasses can be personalized by adding a custom cleaning cloth design.
Event Gifting
Oakley sunglasses are available for corporate event gifting. The Event Gifting Experience delivers an all-inclusive, on-site gifting solution to leave guests with a lasting positive impression of your company. Customers receive an Oakley gifting station with the most popular styles. Your guests interact with an expert and walk away with a product choice that they love.
International solutions are also available, including web redemption sites.
Where to Source
Links Unlimited is a leading Master Fulfillment Company that provides authorized access to the Oakley line for use in incentive, recognition, loyalty, corporate- and event-gifting, and other related business applications.
Reseller Policies
Links Unlimited works with all types of clients through their incentive, recognition, promotional, loyalty, marketing and management consulting firms.
Contact
Links Unlimited
Corporate Sales
866-465-4657
corporatesales@linksunlimited.com
Catalog Website
When contacting a BMC supplier, be sure to say you are a Brand Media Specialist or calling from BrandMediaCoalition.com.
Or, contact the Brand Media Coalition for confidential requests.
---