Company Website: https://viewer.zoomcatalog.com/premco-yeti-2020
Founded: 2006
Primary Products and Services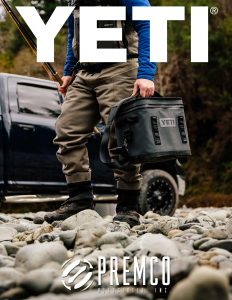 Coolers–hard, soft, and silo; drinkware–tumblers, bottles, mugs, jugs; bags–backpacks, totes, lunch bags; gear–cargo, boxes, chairs, blankets; pet bowls; accessories.
Click here for the Yeti catalog of products.
Company Story
Yeti founder Roy and his older brother Ryan Seiders are Texans who spent their childhoods in the out of doors with an entrepreneur father whose business designed epoxies for fishing rods. As boys, they fished and hunted as well as learned about the outdoors industry by traveling to trade shows with their father, and they went through many coolers along the way. They found that the handles and latches would break, or the lids cave in, and none of the coolers available lasted a season. In 2006, YETI Coolers was founded "to build the cooler we'd use every day if it existed. One that was built for the serious outdoor enthusiast rather than for the mass-discount retailers. One that could take the abuse we knew we'd put it through out in the field and on the water. One that simply wouldn't break. "The founders "decided early on that product innovation would come from necessity and firsthand experience – not from market research and data analysis. Today, YETI products perform when it matters most — whether that be an excursion into the remote Alaskan wilderness, chasing redfish on the Gulf coast, or just getting together with friends in the backyard."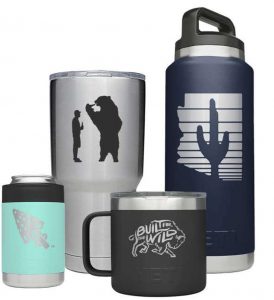 The company was among the first leading brands to prove that organizations would pay top dollar to put their logos on high-quality water coolers, bottles, and Ramblers, and has helped lead the growth of the use of retail-brands in the promotional products field. Yeti now has sales of nearly $800 million and its stock has nearly doubled since it went public in 2018.
Today, the company's lines include: Tundra hard coolers; Hopper soft coolers; Rambler tumblers, bottles, and jugs; Camino and Crossroads totes and backpacks.
Brand Personality
"At YETI, we talk of the wild. We explore it. We live for it. Hell, every product we make is 'Built for the Wild.®'  We were raised with an appreciation for wild game, unfamiliar territory, and high-quality gear."
The company's brand promise is "to ensure each Yeti product delivers exceptional performance and durability in any environment, whether in the remote wilderness, at the beach, or anywhere else it takes you."
The company's values and principles are:
Be authentic and innovative with our brand and products.
Continually strive for improvement.
Prioritize activities that have the biggest impact.
Be responsive and go the extra mile.
Act with a sense of urgency.
No one succeeds alone.
Build something
Make a real
Ensure it's
Buyer Persona
The Yeti brand, originally designed for hunters and anglers, attracts active outdoors people of every demographic group and age and those who wish to project that lifestyle, as well as those who enjoys throwing or participating in outdoor parties.
The company has multiple brand ambassadors for fishing, hunting, outdoor, ranch and rodeo, and food and beverage, reflecting the many faces of its customers.
Demographics

While the brand originally was built for the active outdoors market, it has expanded to include everyone from college students to high-income professionals who might never enter the wilderness but who value the rugged quality and durability and the statement made by the Yeti look.
Endorsements and Sponsorships
The company sponsors the Yeti Tour—A North American road show visiting a dozen cities featuring seven unreleased films that "capture the unbreakable human spirit," along with ambassador visits, gifts, and raffles for YETI products.
The company sponsors nearly two dozen associations involved with wildlife and habitat preservation, from American Rivers, Backcountry Hunters & Anglers, The Billfish Foundation, to the Rocky Mountain Elk Foundation and Theodore Roosevelt Conservation Partnership.
Customization and Personalization

Yeti customizes the Rambler series of product.  Method of decoration is Laser Oxidation, lead time is 4 weeks, minimum is 48 units and must be ordered in case packs of 6.
Yeti coolers and drinking vessels can be customized with logos or personal designs.
Contact
Bruce Bolger
BMC
914-591-7600, ext. 230
Bolger@TheICEE.org
When contacting a BMC supplier, be sure to say you are a Brand Media Specialist or calling from BrandMediaCoalition.com.
Or, contact the Brand Media Coalition for confidential requests.
---