Founded: 1952
Primary Products and Services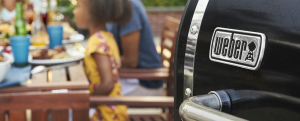 Grills: gas, charcoal, electric, and portable; grilling accessories, and grill care.
Weber is one of the world's most loved and engaging experiential brands, offering a wide range of grills and accessories. Weber offers special presentation and personalization options to make the gift even more unique and appreciated, no matter the occasion.
From career milestones and exceptional performance, to team building, the experience and love of grilling is universal and perfect for any occasion. A trip to a Weber Grill Academy will bring your team together in a fun and engaging way, bringing you closer to your customers and employees.
Company Story
The original Weber Kettle was invented in the suburbs of Chicago by a young man named George Stephen. To say that the rest is history is an understatement, because as we all know, the Kettle wasn't George's last invention, and his small backyard workshop quickly grew into a global company with 33 offices around the world, with grills sold in 75 countries.

At Weber, our mission goes far beyond making a superior grill. Our promise is to ignite inspiration, discovery & possibility through everything we do, and everyone we touch. Grilling is about making fantastic food, bringing people together, and creating memories. So, we build the highest quality grills to help you serve family and friends delicious food every time. Our goal is to then inspire grilling experiences full of possibilities. Because grilling, as we see it, is more than a product; it's a passion, a way of life. And only with Weber can you discover what's possible.
Brand Personality
The Weber personality is expressed in a recognizable and distinguishable way: leading, intriguing, inclusive, inspiring, and encouraging.

Buyer Persona
The Weber customer values quality, reliability, and innovative products.
Demographics
The experience and love for Weber grilling is inclusive and universal, touching people of all ages, experience levels, and lifestyles. The Weber brand generally appeals to people of all means and education who appreciate high quality and durable products.

Customization and Personalization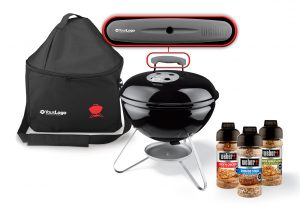 Weber partners with MAS, Inc. to provide decoration services on a variety of grills and accessories. Please view and download the latest customization guide and feel free to contact MAS below for any inquiries. Co-branding with a leading brand like Weber shows confidence and creativity in your marketing programs.
Reseller Policies
Contact your Weber Authorized Incentive Representative or Master Distributor for current pricing and availability options.
Product Lines
Spirit; Genesis; Q portable grills; Summit; SmokeFire; Original Kettle; Master-Touch; Performer; Smokey Mountain Cooker; Ranch; Summit Charcoal; Smokey Joe; Jumbo Joe; Go-Anywhere
Contact
Bruce Bolger
BMC
914-591-7600, ext. 230
Bolger@TheICEE.org
When contacting a BMC supplier, be sure to say you are a Brand Media Specialist or calling from BrandMediaCoalition.com.
Or, contact the Brand Media Coalition for confidential requests.
---