Company Website: http://EngagementAgency.net
Founded: 2012
Primary Products and Services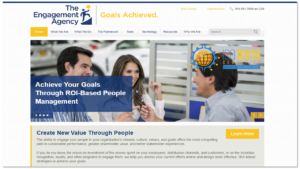 The Engagement Agency is a full-service support organization for any type of engagement solution provider seeking to expand into the rapidly growing engagement field.
More than ever, CEOs are seeking a more measurable effective way to engage key stakeholders—from customers, patients, and other constituents, to distribution and supply chain partners, communities, volunteers or anyone critical to success.
Created by the Enterprise Engagement Alliance, the Engagement Agency provides a turnkey business solution for any type of engagement solution provider that includes everything needed to launch a successful engagement business  by helping companies update their current engagement practices to make them more efficient, measurable, and aligned with organizational goals.
The Engagement Agency provides solution providers with everything needed to create a new business, including:
A proven, ROI-based approach to motivating customers, patients, and other constituents; sales and non-sales employees; distribution and channel partners or any stakeholders.
Training for your sales, marketing, program design, and operation teams.
Credibility through association with an established organization.
A compelling, scalable business model
Sales tools content marketing and sales tools; training and support, and access to any engagement tool or resources needed for success.
A customizable web site or one created especially for your content.       .
The ability to select from literally hundreds of solutions based on client needs, including technology; brands for rewards, promotions, and gifting; virtual and other events; learning and communication platforms, assessment; analytics, and much more.
Company Story
The Engagement Agency was founded in 2012 by pioneers in the emerging field of Enterprise Engagement. They were among the first in business to recognize that a strategic and systematic approach to human capital management, scorecards and ROI of engagement measurement could provide a significant competitive edge as well as driver of long-term performance and better experiences.
A sister company to the Enterprise Engagement Alliance outreach organization at TheEEA.org, the Engagement Agency's mission is to create a thriving marketplace of engagement solutions to help organizations of any size worldwide profit from a strategic and systematic approach to human capital management and enterprise engagement.
Brand Personality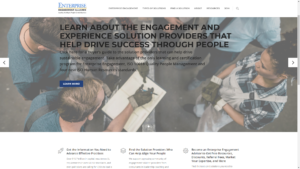 Our culture is to be caring, helpful, and to pay it forward by assisting people interested in human capital management, scorecards, and ROI of engagement in any way we reasonably can. Without affiliation to any religion or political party, we wish to embody the spirit of the "Golden Rule," which we believe to be the foundation of success, in every way we can.
We give away much of our "intellectual property," through resources offered at:
Buyer Persona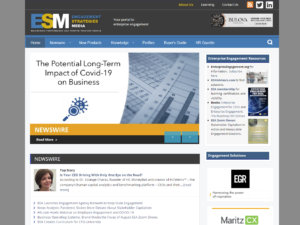 Engagement Agency customers are innovators who believe in people and who know that organizations everywhere can do a better job at human capital management, scorecards, and ROI of engagement. Our customers seek to bring meaningful business solutions to their senior management or to their clients to help organizations achieve new wealth from the up to 70% spent on "sunk" people costs.
Demographics
The Engagement Agency customer is open-minded to new ideas, measurement, helping, not selling.
Customization and Personalization
Everything the Engagement Agency does is based specifically on the needs of clients. Unlike almost any other agency, the only solutions we offer are expertise, strategic planning, business plan creation, measurement, and managed outsourcing. We are beholden to no specific technology, culture, brand, incentive, learning, or communications solution except for the one most appropriate to solution partners and their clients.
Event Gifting
The Engagement Agency's sister organization, the Brand Media Coalition, provides direct access to the leading brands and master fulfillment companies active in the business of brand media: using brands selectively in rewards, recognition, loyalty, and business, event, promotional gifting and corporate amenities.
Where to Source
The Engagement Agency at the contact information below is your go-to resource to get started on a plan to profit from human capital management, scorecards, and ROI of engagement strategies and tactics.
Reseller Policies
The Engagement Agency provides a complete program to help resellers build their businesses and scrupulously respects the source and confidentiality of each business opportunity that anyone brings to us.
Product Lines
The Engagement Agency is building the world's largest marketplace of engagement solution providers through its EEXAdvisors.com affiliate marketplace, including leaders in:
Business operating systems to run your organization better.
Brand and culture definition and alignment to get and keep everyone on the same page.
Assessment and feedback to continually gauge engagement and solicit feedback and suggestions.
Communications–(digital, print, virtual, video, face to face, etc., to continually inform and tell your story.
Collaboration and innovation to crowd-source innovation from all your stakeholders.
Learning that supports the tasks people need to deliver internal or external customer satisfaction
Knowledge management to make sure your organization catalogs and makes accessible the fruits of its brain trust.
Loyalty strategies that encourage incremental effort or purchases and willingness to recommend.
Recognition to power appreciation for actions that align with organizational values and objectives.
Brands and programs for rewards, gifting, promotions, and corporate amenities selectively using brands to tell your story.
Diversity and inclusion strategies that enhance engagement, retention, and sales.
Engagement technology to connect all stakeholders on a one-to-one basis.
Human capital management, metrics, and reporting to make better decisions and address stakeholder demands.
ROI measurement of human capital as well as engagement efforts.
And more
Contact
Bruce Bolger, Founder
The Engagement Agency
Tel. 914-591-7600, ext. 230
Bolger@TheICEE.org