Founded: 1980
Primary Products and Services
With 172 different styles, 574 SKUs, and 92% customer loyalty, Maui Jim is the world's fastest-growing polarized sunglass maker. Styles include flash mirrors, aviators, fashion, wrap, sport, rectangular, rimless, sports, classic and cat eye. Maui Jim regularly releases new styles and line extensions, such as the recently announced Asian Fit.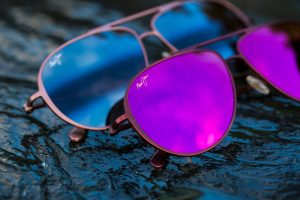 Company Story
Maui Jim was launched by a single man selling sunglasses on the beaches of Maui in 1986. The original line had seven styles and was available exclusively in Ka'anapali at the Hyatt and Sheraton hotels. The business was purchased by Hester Enterprises in 1991, which established distribution on the mainland in 1994 and created the Maui Jim name in 1996. Seeing a need for sunglass technology that could combat intense glare and harmful UV rays while bringing the brilliant colors of the island to life, Maui Jim engineered the revolutionary technology that can be found in all 172 different styles. All Maui Jim sunglasses offer complete UV and HEV protection with the company's patented PolarizedPlus2® lens technology that enhances color, clarity and detail. They are all made in Italy or Japan, designed and tested in Hawaii. Maui Jim sunglasses don't just dim glare, they enhance colors, clarity and detail using natural light to create a more vivid visual experience in all light conditions. Maui Jim products are sold and distributed in 130 countries supported by 16  distribution centers. The corporate sales division was launched in 2000 and has since executed approximately 11,000 events in it's almost 20-year history.
Brand Personality
Maui Jim provides a package that includes the most advanced technology available. Maui Jim's unique benefits include:
• The lenses enhance color like no other lens on the market. Many sunglass lenses simply darken your view, dimming and fading color for a flat, low-contrast perspective. PolarizedPlus2® lenses enhance the colors your eyes naturally perceive.
• Every pair of Maui Jim sunglasses eliminates 99.9% of glare. Glare washes out colors, obscures details and fatigues your eyes. PolarizedPlus2® lenses eliminates that glare, allowing you to see the world at its brilliant best.
• Maui Jim lenses block 100% of UVA, UVB and UVC rays. Just like your skin, your eyes need protection from exposure to the sun's rays. PolarizedPlus2® lenses eliminate 100% of UV radiation and provide protection against a number of additional stresses, helping your eyes stay healthy so you can keep taking in all the world's beauty.
• Maui Jim has a two-year manufacturer's warranty.
• Most repairs are turned around in three business days, and they replace temples and nose pads for free as long as parts are available.
Buyer Persona
Maui Jim customers are about functional elegance. It's not about being seen, but about seeing well. They are self-directed, follow their own path, don't need to stand out or fit in…It's about what they think rather than what other people think about them. They will pay more for what they know is the best for them.
Demographics
Maui Jim is the most unisex brand in the sunglass market: with 53% male; 47% female. The age group covers a wide gamut: 30%, 18-34; 36% 35-44; 44% or over 45. At $275 retail for the average pair, the Maui Jim price point skews toward the higher end.
Customization and Personalization
Maui Jim is committed to making each gift an experience, whether given at an office, on a beach, or on the Great Wall of China. Custom style mix packages have been created to include 18 styles that include multiple frame sizes, lens colors and popular styles.
• A standard brown zipper case and flowered cloth/pouch is always included and complimentary.
• Cases can be customized with your company's logo.
• Add the recipient's name to the case or pouch for that extra personal touch.
Event Gifting
Maui Jim was the first to create the concept of the event-gifting experience and likely has the largest event-gifting program in the business. On-site sunglass fitting experiences facilitate social connection and create fond memories with a product people use every day. Maui Jim provides a turnkey program that is run by their own employees and supported by 16 distribution centers around the world to accommodate a minimum of 25 people in the U.S. or 50 people overseas. There are no surprises because there's a one-unit price no matter what the style, there are no restocking fees and exchanges are complimentary except for shipping. Maui Jim can provide customized cases, cleaning clothes and pouches to make sure an event is one that the recipient will never forget!
Where to Source
All Maui Jim products are available directly from Maui Jim, www.mauijim.com or 888-665-5905. For Maui Jim Experiential Gifting, you can find them directly at www.mauijimcorporategifts.com or 800-614-6790.
Contact
When contacting a BMC supplier, be sure to say you are a Brand Media Specialist or calling from BrandMediaCoalition.com.
Or, contact the Brand Media Coalition for confidential requests.
---