Founded: 2010
Primary Products and Services
Instant Pot pressure multi-cookers; air fryers and air fryer ovens; blenders; multicookers; rice and grain cookers; toaster ovens, and sous vide devices.
Click here for a catalog.
The Instant Potis a programmable, multi-use pressure cooker, rice cooker, steamer, slow cooker, saute pan, yogurt maker and warmer in one device. One can use it to make anything from a stir fry and rice, to roast chicken, yogurt and even cheesecake.  It has spawned a universe of cookbooks and recipes shared through dozens of highly engaged social media communities, and the company introduces innovations each year based on a careful analysis of customer feedback.
Company Story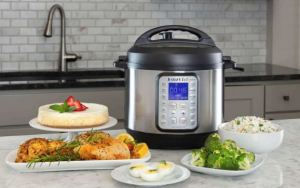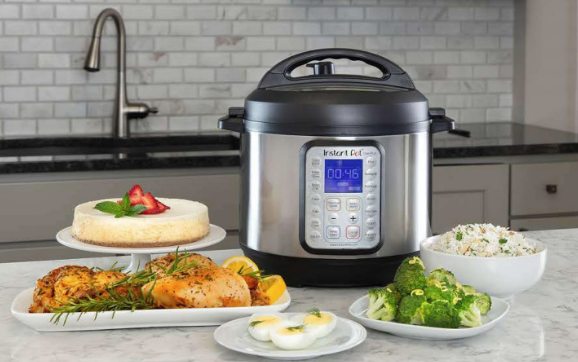 Like so many great companies, Instant Pot's founder is passionate about his product. Dr. David Wang, an engineer, conceived of the idea while working in the telecommunications field, with a working wife and two children. After getting laid off, he set out to create a product that would make home cooking quick and easy. It took him and two partners well over a year and about $350,000 to solve a perennial problem for working parents who want to feed their children wholesome meals: how to cook a quick, nutritious and tasty meal around full-time jobs and busy schedules.
Dr. Wang believed he could improve upon the model of pressure cookers that require preparation before leaving for work in the morning by creating a device that can be used in the evening. The Instant Pot device combines pressure cooking and slow cooking with the rice cookers he had known as a child growing up in China. The goal was to make it easy for people to come home from work and have dinner on the table in under an hour.
With no marketing budget, Dr. Wang started selling the product on Amazon.com in 2010, with at first only a few orders trickling in. Sales gradually grew, with Dr. Wang assiduously responding to comments on Amazon.com, good and bad, all the while processing the feedback to improve the product. By 2012, the company was widely recognized for having created a new category of cooking device. By 2016, the company sold over 215,000 units on Black Friday.
Most significantly, the Instant Pot has nurtured a near cult-like following of home chefs who have created and shared thousands of recipes and mini-cookbooks through the Facebook pages with millions of followers, not to mention Instagram, Pinterest, and You Tube, creating a community that feeds upon itself to foster a continually growing market of converts.
Buyer Persona
The Instant Pot customer is creative, likes to cook, enjoys practicality and convenience. Many are community minded and enjoy sharing recipes with others. Parents that want to provide flavorful, healthy cooking, without spending hours cooking the perfect meals.
Demographics
Because of the low cost and practicality of the product, and the fact that it is frequently given as a gift, the customer profile cuts across every age group and demographic, defined more by an appreciation for wholesome, flavorful food, than by income. The amount of men cooking at home has skyrocketed to over 50% but more women than men still do the majority of cooking.
Customization and Personalization
Premco can provide customized packing slips and insert letters into boxes.
Reseller Policies
Premco sells through incentive, recognition, loyalty, and promotional distributors, and belongs to ASI and PPAI.
Contact
Bruce Bolger
BMC
914-591-7600, ext. 230
Bolger@TheICEE.org
When contacting a BMC supplier, be sure to say you are a Brand Media Specialist or calling from BrandMediaCoalition.com.
Or, contact the Brand Media Coalition for confidential requests.
---