Founded: 1971
Primary Products and Services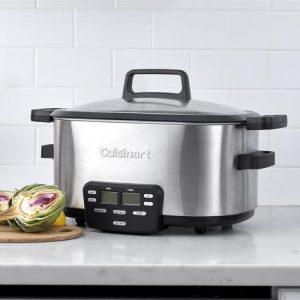 Primarily known as the founder of the food-processor category, Cuisinart today describes itself as a full-service culinary resource with a wide array of products relied upon by both chefs and consumers.
In addition to food processors, products include other kitchen appliances, cookware, bakeware, dinner and flatware, cutlery, tools and gadgets, and outdoor grilling.
New products: 6 quart, 3 in 1 Multi-cooker; Digital Air Fryer toaster oven, Multi-clad pro Stainless Steel set.
Company Story
The Cuisinart brand has established such a reputation for high quality and such a coveted place in the kitchen of many gourmet or even casual cooks that most people believe the product must have come from France. In fact, the brand was built on a $20,000 investment by a MIT engineer named Carl Sontheimer and his wife Shirley, who both loved French cuisine. While in France, they saw the heavy-duty processors being used by French chefs. In a story that reads like another epic saga of people with a dream, the couple at first opened up a small import business to bring the French food processors to the U.S., but the devices were too large for the average kitchen and his company didn't have the marketing means to educate the marketplace.
This set the engineer to designing a better mousetrap: he introduced a more appropriately sized version for the American household and managed to get it into some major department stores in 1973. His new device vastly sped up the time needed to chop meat or knead dough and with great hopes it was introduced in 1973 at the National Housewares Exposition in Chicago. Were it to be so easy? Although Americans were beginning to spend more time on cooking, people were confused: what made this food processor different than a high-end blender? And, to top it off, it carried a much higher price point.
Using an approach that has proven successful for many other brands, Sontheimer showed the device to chef James Beard, Julia Child and other culinary luminaries. Their endorsements and favorable coverage in respected culinary media did the trick, sales began to grow rapidly, and a category was born. Despite encountering immense competition from the world's largest home appliance and kitchenware competitors, the company stuck to its relentless focus on high quality and the high end of the market and came out with even more expensive models as inexpensive competitors tried to carve at a low-end market.
The Sontheimer's rode out innumerable challenges to maintain their focus on food processors, even as others advised them to leverage the great name of Cuisinart into other kitchen appliance lines. By 1988, the founders were ready to retire and sold to a group of private investors who shortly after sold it to the Conair Corp., a national maker of home appliances that has owned it ever since.
Conair has maintained the Cuisinart brand's relentless commitment to the professional and home cooking market through continued investment in innovation and through broadening the Cuisinart brand to include almost every facet of the cooking experience.
Brand Personality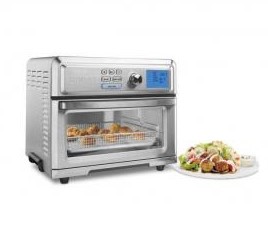 Contrary to what one might imagine of a company born of a love of fine French cuisine, the brand is down to earth and focused relentlessly on helping everyone "Savor the Good Life®" True to its commitment to culinary education, Cuisinart's web site is filled with recipes, photo and recipe contests, and a library of all its product manuals. The brand stands for a love of cooking but also for a practical consideration for the time involved and an ongoing interest on how to help improve and cut down the time for preparation and to find other ways to create an overall better cooking and dining experience.
Buyer Persona
Cuisinart describes its customers as "home cooks who are looking for more than just a product purchase." These customers are often the types who put their aprons on the minute they start preparation and value tools that will do the job better. They want cooking tips and techniques that turn products into culinary tools. The Cuisinart customer is value conscious but pays more for tools that help speed up preparation without cutting corners.
Demographics
While Cuisinart is by no means the entry-level brand in most kitchen categories, its customers are driven more by their interest in cooking, appreciation for culinary tools, and the amount of time spent cooking at home; in other words, the Cuisinart customer can be almost anyone who spends a lot of time in the kitchen. Because over half of American households say that at least an hour a day is devoted to food preparation and cleanup, brands like Cuisinart focus on helping people save time and reduce the drudgery of preparation. This gives the brand broad appeal from an income, education, or age point of view. (Note: Millennials are known to devote the least amount of time to cooking and are more likely to eat out, but there are still a double-digit percentage of Millennials who like to cook and who will take great care to create a meal for a special occasion.)
Endorsements and Sponsorships
Cuisinart supports education and activities related to cooking, health, community, and cancer, which includes: The Dynamite Shop, a cooking social club for kids; Macaroni Kids, a community-based information service; Cycle for Survival and The Breast Cancer Research Foundation®, as well as food banks and food packages for the Armed Forces members, etc.
Customization and Personalization
Harco can provide pad-printing, as well as personalized packing slips, enclosures, or logoed boxes.
Contact
Bruce Bolger
BMC
914-591-7600, ext. 230
Bolger@TheICEE.org
When contacting a BMC supplier, be sure to say you are a Brand Media Specialist or calling from BrandMediaCoalition.com.
Or, contact the Brand Media Coalition for confidential requests.
---