Founded: 1918
Primary Products and Services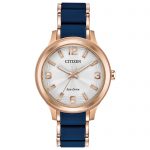 Citizen Watch is the market leader in the U.S. mid-price luxury market, making it the leading brand in the incentive and recognition market. It offers one of the widest arrays of product offerings in the watch and clock categories, with many choices in pricing, fashion and function. Citizen continues to be the brand of choice in programs due to its appeal to all consumer groups and because of the story its brand conveys.
Company Story
Citizen, a pioneer in watchmaking and innovative technology since 1918, promotes excellence with a deep-rooted respect for craftsmanship. For over 40 years, Citizen's Eco-Drive technology has set the brand apart. A simple yet revolutionary concept, Eco-Drive harnesses the power of light from any light source and converts it into energy, never needing a battery change. Citizen's five-year warranty is the longest warranty of all watch brands in the mid-priced luxury market.
Brand Personality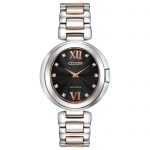 Citizen is the official time piece of Disney World and Disneyland theme parks and aligns with organizations and personalities that reflect the values of the brand, including the Citizen Naismith Trophy, Navy Blue Angels, National Merit Scholarship and the Better Starts Now program. Citizen has launched co-branded watch collections with Marvel, Disney and Star Wars. The company's simple yet revolutionary Eco-Drive light-powered line of watches is the most sustainable watch line on the planet.
Buyer Persona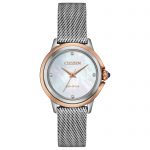 The Citizen Watch customer respects innovation and craftmanship and environmental sustainability. Technology-focused watches feature the most accurate timepieces, using atomic and satellite timekeeping. Citizen is one of the first brands to launch smartwatches, introducing the Proximity line in 2012. Ladies collections feature fashion forward watches with stunning new designs incorporating diamonds and unique cases. The Promaster series, featuring Land, Air and Sea models, is celebrating 30 years of industry firsts in 2019. Whether its for casual, work or formal occasion, Citizen has the right timepiece for every need.
Demographics
Each award experience is different based on the event, participant base and theme. As the watch brand with the largest market share in mid-priced luxury watches, Citizen has category top-performers in each gender, function and price segment, allowing customers to create a truly custom experience with an assortment curated just for their participants.
Customization and Personalization
Citizen provides all its watches in very attractive retail gift boxes with the result being a high-perceived award when it is presented in a public setting. Citizen also offers engraving and dial decoration options, so the watch is a constant reminder of an accomplishment achieved and serves as a positive motivator for future performance.
Where to Source
Citizen Watch brands are available through incentive representatives, promotional products distributors, incentive, recognition, loyalty and related companies.
Contact
Adrienne Forrest,
VP, Corporate Sales, Bulova
If you are a Brand Specialist, be sure to say so when contact a BMC supplier.
Or, contact the Brand Media Coalition for confidential requests.
---