Founded: 1875
Primary Products and Services
With its portfolio of quality crafted watches by Bulova, Caravelle and Wittnauer, and distinctive Bulova Clocks, Bulova is ideally suited to meet the diverse needs of the corporate gift market. We offer products perfect for all ages, wearing occasion, and personal style preferences. And no matter what timepiece the corporate client or award recipient chooses, Bulova offers special presentation and personalization options to make the reward even more unique and appreciated.
From career milestones to exceptional performance, there are many reasons for corporate gifting– and Bulova is the solution for them all. With its recognized brand names, wide range of styles with budget-right options and customization opportunities, Bulova's Gift in Time program is ready to transform any corporate-gifting event into a thoughtful, individualized and engaging experience. Bulova offers various options to planners, including an onsite sizing program for added excitement.
Click here for the Bulova corporate catalog as well as additional information about the brand.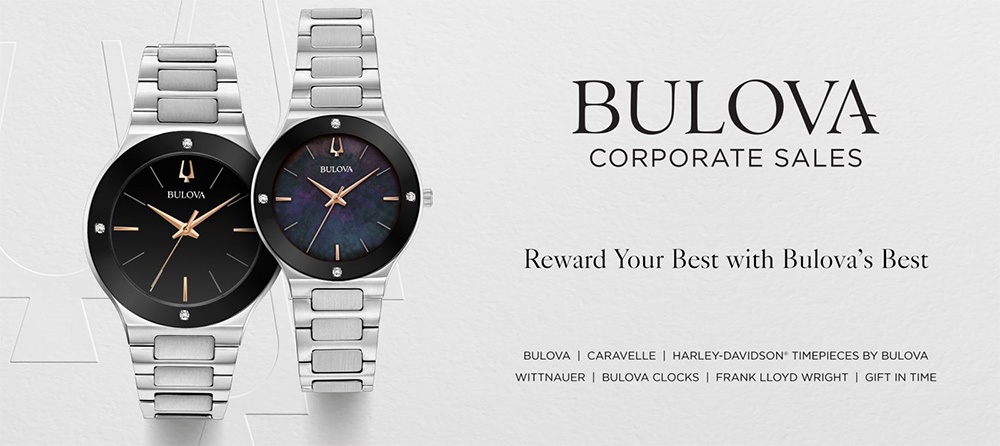 Company Story
In 1875, just as America was entering its golden age of industry and progress, one visionary leader would rise to ignite a series of iconic moments in our nation's history–and transform the way the world perceived time. Fueled by the era's risk-taking ethos, Joseph Bulova presented one innovation after the next, ultimately opening a small store in New York City that would mark the beginning of his lifelong quest: to craft supreme quality timepieces for an ever-changing and dynamic landscape.
With an unwavering drive for perfection, efficiency and precision, quality craftsmanship became the foundation upon which Joseph Bulova built his brand. But what fueled the brand's continual progress was its spirit of invention–pursuing innovation and technology both within the timepiece industry and beyond Bulova's industry innovations included everything from pioneering standardized production of watches to developing the first fully electronic watch with proprietary tuning-fork based technology, making it at the time the most accurate watch in the world.
Our breakthroughs reached beyond the world of timekeeping alone. Our pioneering spirit changed the face of marketing with America's very first radio and TV commercials. We made advancements in the world of sports with the Phototimer, and even transformed transportation through collaborations with Lindbergh and on 46 NASA space missions. During the first moonwalk, a Bulova timer was even placed in the sea of tranquility.
Reiterating its longstanding dedication to a history of firsts, the Precisionist collection was introduced in 2010. It is intricately styled and infinitely accurate, with a continuous sweeping second hand. Most recently, in 2016, the brand (quite literally) changed the face of the industry with the Curv collection—the world's first curved chronograph movement. Today, Bulova is driven by the same core principles of craftsmanship, innovation and technology that guided our visionary founder over 140 years ago. Much like Joseph Bulova himself, we set our own standards and create our own rules-breaking boundaries along the way to deliver the exceptional.
Brand Personality
A long tradition of innovation, style, precision, cutting-edge technology and exceptional service. Explains Adrienne Forrest, Vice President of Corporate Sales: "I'd say first and foremost, our attention to detail in curating and personalizing a program or event to meet specific client and consumer needs sets us apart."
Buyer Persona
The Bulova customer values craftsmanship, authenticity, innovation and technology.
Demographics
Between the wide selection of Bulova styles for men, women and every type of occasion, and those of its sister brands, organizations can with expert assistance carefully select the brands and styles that will work best for any audiences in almost any demographic category.
Customization and Personalization
Bulova offers various forms of customization, from colorfully bold to elegantly discreet. Select dials can be personalized with imprinted or etched logos. Case-backs can be inscribed with engraved names, dates, messages or logos. Special gift bags are also available to further enhance the presentation and make the gifting experience more memorable.
Event Gifting
Uniquely personal, delightfully interactive and just plain fun, Bulova's Gift in Time Watch Experience transforms event gift-giving into an event of its own, creating a perfectly customized, truly memorable shopping experience designed for any type of incentive, motivational or other event. Bulova is the perfect choice for this growing business segment in that its various brands and price points work with any budget or style requirement. Bulova offers various options to planners, including an onsite sizing program for the watches for added excitement.
Where to Source
Bulova brands are available through incentive representatives, promotional products distributors, incentive, recognition, loyalty and related companies.
Contact
Adrienne Forrest,
VP, Corporate Sales, Bulova
If you are a Brand Specialist, be sure to say so when contact a BMC supplier.
Or, contact the Brand Media Coalition for confidential requests.
---