Founded: 2004
Primary Products and Services
NGC Revolutionizes the World of Gift Cards and Branded Currency.
Explore our innovative technology solutions and world-class service that's connecting retail brands with the corporate & consumer marketplaces. Need gift cards for your program? Ask about our gift card API, mobile payment applications, B2B | B2C gift card eCommerce platforms, physical and digital fulfillment options.
Operating out of its 92,000-square-foot fulfillment center, its gift card operational experts, strategic partnership agency team and one-of-kind gift card API (data connections) and mobile technology integrations source and deliver gift cards from over 500 international brands both physically and digitally across the United States, Canada, U.K. and Europe with the industry's highest levels of security, quality and speed.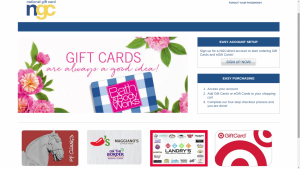 NGC has made dramatic investments in new ways to efficiently customize and personalize gift card programs. Some of the world's largest financial institutions, retailers, healthcare providers, insurance and telecommunications companies and more trust NGC with the management of their gift card fulfillment, sourcing and mobile payments solutions.  It offers integrated physical and digital offerings, mobile-branded currency platforms, closed- and open-loop cards, as well as supporting clients of all sizes and one of the industry's most robust one-stop-shop  transactional gift card portals.
It is NGC's vision to revolutionize the way brands interact with consumers by redefining 'gift cards,' and its retail gift card selection includes Amazon.com, iTunes, Target, Walmart and hundreds more.
Company Story
National Gift Card was founded specifically to support the needs of leading retail brands seeking to profit from the corporate-gifting, incentive, recognition and loyalty business, and to serve the incentive, recognition, loyalty and related firms that provide such services to organizations of any size or type. This focus on the B2B market and NGC's gift card operational expertise and one-of-kind technology integrations set the industry's 'gold standard' on card choice, security, quality and turnaround times for the loyalty, reward and incentive programs of the world's largest financial institutions, healthcare providers and more. NGC has activated hundreds of millions gift cards, fulfilled over $2 billion in gift card load value and processed tens of millions of gift card orders via bulk packages or individually drop-shipped each year using USPS First Class mail and major couriers.
NGC understands the need for its retail gift partners to protect the integrity of their brands by ensuring the proper use of their cards, as well as for channel partners to have access to the latest technology, mobile options, security, physical and e-card selection, in addition to customization and personalization capabilities to ensure the best possible offering to their end-user clients.
To meet the demanding requirements of some of the world's largest organizational users of gift cards, National Gift Card employs over 150 people, most of whom live within five miles of its U.S. fulfillment center, about 50 miles west of Chicago. From a technology team perspective, NGC supports a mobile-center and branded-currency-focused IT team that can build bespoke, white-label gift card and payments solutions for its brand partners and corporate clients. Operationally, NGC supports a six-day work week with two shifts, with seven-day operations during portions of the fourth quarter holiday season and access to contingent personnel to meet specific needs throughout the year.
Brand Personality
NGC values maintaining its market leadership through a focus on the needs of its retail gift card and channel partners and their customers; on its dedication to precision, security and continuous improvement; and to maximizing the impact of programs through the proper selection and delivery of retail gift cards based on the objectives, audience, program and budget. NGC's passion for order accuracy (99.996%) means that it delivers the right card into the right kit to the right person (either digitally or physically) in the right amount of time securely at the industry's highest success rates.
Secure Gift Card Solution Provider
• NGC is both PCI DSS and ISO 9001 certified, as well as HIPAA compliant. NGC's applications that interact with customer data are hosted at SOC II and PCI DSS compliant environments. NGC maintains security and compliance frameworks such as GDPR, NIST, PCI DSS and HIPAA for the full protection of all gift card and customer data.
• NGC conducts extensive checks on each employee to address the people issues that can create the greatest hidden risk and meets the contractual standards for gift card program support in the financial institution and healthcare industries.
• The company uses a proprietary, automated, systematic carrier printing software with matching process to ensure that customized client gift card orders are printed on the correct custom-carrier templates per the client order file, along with quality control cameras on physical order fulfillment.
Buyer Persona
NGC's customers are both leaders and newcomers to the mobile, incentive, recognition, loyalty, gifting and fundraising businesses who prefer to work with market leaders. They want companies and people they trust who intimately know the business; who can provide them the latest innovations with the highest possible security and reliability; and who can scale to meet their needs. NGC customers pride themselves on working with market leaders whose expertise they can draw upon as trusted advisors to enjoy a high level of comfort that all specifications will be met and potential pitfalls anticipated whenever possible.
Demographics
With 500 retail gift cards representing some of the world's best known and up-and-coming retail brands, NGC can help the right brands achieve the client's objectives and support their own stories in a compelling way with any audience or demographic. As a member of the Brand Media Coalition, NGC understands the media and story-telling power of each of our retail gift card brands and can help clients find the right brand for their audience, budget and objectives.
Customization and Personalization
NGC can customize the end-user experience branded for either a retailer or a corporate client program at the mobile, email and physical letter level.
Where to Source
More information and a full list of NGC's gift card partners, as well as access to NGC's corporate ordering portal, can be found at 
ngc-group.com
. For programs requiring a gift card API, mobile gift card mall, or other digital technology support, contact NGC at:
Contact
Rick Rubin
Executive Vice President of Sales
NGC (National Gift Card)
www.ngc-group.com
Online Catalog
r.rubin@ngc-group.com
888-472-8747
When contacting a BMC supplier, be sure to say you are a Brand Media Specialist or calling from BrandMediaCoalition.com.
Or, contact the Brand Media Coalition for confidential requests.
---