Founded: 1954
Primary Products and Services
Through Certif-A-Gift®, companies can successfully motivate their employees and business partners, recognize performance and create positive work environments by utilizing effective incentive and recognition programs. Working through its marketing partners throughout the US, Certif-A-Gift offers two quick-start gifting and incentive point programs that integrate the power of print and online communications to maximize impact.
In an effort to motivate employees and partners, companies often misspend resources by offering one-size-fits-all incentive programs or failing to effectively communicate. With Certif-A-Gift®, companies can align incentives with each employee's unique set of preferences and tastes, no matter the age group, gender, experience level, or interests, and make sure that their awards are properly communicated. By placing the "power of choice" in program participants' hands, and integrating print communications, managers can maximize individual and company-wide performance and brand engagement.
In addition, by working with its local partners, clients can provides can provide hands-ont service to make sure their customers get precisely what they need.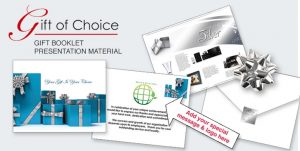 Certif-A-Gift's incentive and recognition program solutions are quick to implement and offer program participants thousands of brand-name reward options. Certif-A-Gift has all the top brands and latest models from the most popular lifestyle merchandise categories, including electronics, housewares, sporting goods, tools, luggage, and jewelry.
Gift Booklets to enhance impact: Presentation items include a Gift Booklet, redemption card, insert letter, presentation jacket and adhesive foil seal. The insert letter can be printed with the client's company name, logo and/or custom message.
Gift Level Cards to communicate congratulations and gratitude. Presentation items include a coordinating Gift Level Card, note card and foil seal of the client's choice. There are several stock presentation designs. Or, clients can provide their own artwork for a custom look.
eNumbers: Digital award presentation options are also available.
Certif-A-Gift maximizes the impact of your programs by integrating print communications and online redemptions.
See the Incentive Merchandise Fulfillment brand media storefront for bulk business and event gifting services.
Company Story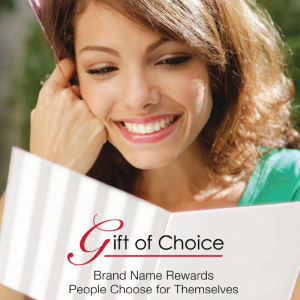 For over 65 years, family-owned Certif-A-Gift® has devoted itself to make the gift-giving process a pleasurable and memorable experience for all. Its personable team of representatives assists employers in developing programs that inspire engagement, productivity and healthy competition in the workplace.
Today, Linda Tobutt, President, and Andy Tobutt, Chief Executive Officer, are carrying on the spirit of innovation sparked by the founder. In addition, the third generation is already in place with sons Ryan, Director of Sales and Client Relations, and Alex, Operations Manager, involved in overseeing many of the departments.
Certif-A-Gift is a Certified Woman's Business Enterprise (WBENC).
Types of Programs
Through Certif-A-Gift®, companies can successfully motivate employees, customers, vendors, contractors, dealers, members and volunteers of all ages and backgrounds. Other programs include years of service, retirement, safety recognition, holiday gifts, contests, incentives and on-the-spot recognition.
Buyer Persona
Organizations that appreciate high levels of customer service and attention as well as the ability to come up with creative solutions to difficult challenges based on decades of experience.
Demographics
Certif-A-Gift has brands and products for every demographic group.
Customization and Personalization
Offering several platform options to meet any budget, Certif-A-Gift® solutions provide customers with custom-branding and messaging, recipient personalization, point issuance and accrual, gift presentation and selection, and comprehensive reporting. Certif-A-Gift® continues to innovate by assuring that the incentive programs and rewards are easy to access, redeem and quick to deliver.
Reseller Policies
Due to its decades of tenure in the industry, Certif-A-Gift likely has one of the largest communities of local promotional, marketing, and human resources consulting firms bringing our products and services to their communities. Certif-A-Gift provides complete support for authorized resellers in sales, marketing, and recognition programs.
Contact
Ryan Tobutt
The Certif-A-Gift Company
1625 E Algonquin Rd.
Arlington Heights, IL 60005
(847) 718-0300
When contacting a BMC supplier, be sure to say you are a Brand Media Specialist or calling from BrandMediaCoalition.com.
Or, contact the Brand Media Coalition for confidential requests.
---