Company Website: http://CardNow.com
Founded: 2019
Primary Products and Services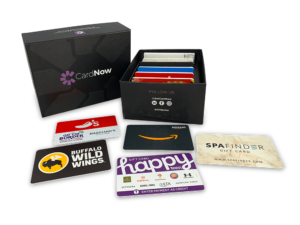 CardNow is one-of-a-kind, patent-pending product and platform that includes a reusable box of 25 inactive, ready-to-load gift cards for a select set of retailers and restaurants. A CardNow Starter Box is available to buy online where you can pick the gift cards you want from an assortment of over 75 brands for a one-time fee as low as $12.99. No additional fees apply beyond the amount loaded on each gift card when the buyer is ready to activate them. All refills are also included, so you can keep your inventory full of the brands you need with a few taps in the mobile app. People can choose any denomination.
CardNow kicks off new BMC Brand Solution Provider profile series. CardNow offers the ability to stock and display highly desirable retail gift card brands for any business and personal gifting or reward option and activate them via smart phone when ready to give.
This new series will feature profiles on brands, retail gift cards, and master fulfillment companies active in the corporate market.
Using the CardNow concept, companies can effectively set up their own gift card carrousels for promotions, incentives, gifting, or fund-raising, and activate the card as close as possible before the moment of presentation for the amount needed.
The company offers a core selection of over 75 in stock name brands and is regularly expanding its selection, even including eGifts in a recent update, as well as a new Choice card that enables companies to combine multiple retailers on one card for optimal choice.
Frye says purchasers receive 25 cards in a sturdy and reusable box or 10 in a pack for easy storage. The cards are activated in whole dollar amounts on-demand within the CardNow app, available for both iOS and Android devices.  This provides the best of both worlds: a physical card, but not having to add the funds to the card until it is needed, as well as no longer needing to send someone to the local supermarket or drug store chain to wait in a line. Because the cards are unusable until activated, it's safe to keep them around to activate and hand out as needed.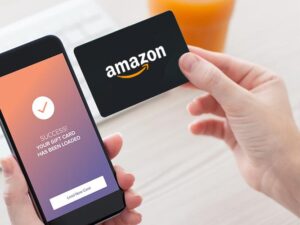 Applications:
On-the-spot employee recognition for great service, exemplary dedication, problem-solving, suggestions, achieving a key milestone, etc.
Customer surprise and delight for making a purchase, sitting through a presentation or demo, rewarding repeat business, coming in for an office visit, and saying your company is sorry, etc.
On the spot wellness and safety rewards encouraging people who have achieved milestones or demonstrated clear efforts.
Fund-raising raffles, gifts to donors, or ability for people to buy at cost with at least 1% automatically going back to the charity.
Personal gifting.  Many CardNow customers enjoy the convenience of having a box of desirable gift cards ready to be activated at any time in the denomination of their choice, not only for friends and family but also as expressions of gratitude for contractors or others who provide ongoing personal services.
Company Story
Because so many smaller business owners and operators are unaware of the corporate IRR (incentive, reward, and recognition) market, most organizations buy gift cards at their local retail outlets paid for at checkout, often long before they are used. Founded in 2019 and backed by experts in the payments field, CardNow aims to make it possible for every company and person to have a portfolio of desirable gift cards that can be activated on demand.
Company investors include CardNow founders Matthew Frye and David Jones, Commerce Ventures, as well as other individuals within the fintech and payments industry.
Brand Personality
Agile, responsible, creative, customer-focused.
Buyer Persona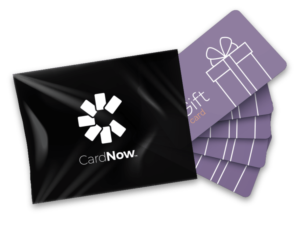 Here are some customer testimonials since our launch that help bring to life the types of customers and applications for CardNow–busy managers seeking a high-impact, efficient surprise and delight gift for both business and family and friends.
"This seems like a no brainer to me. With CardNow, I have gift cards on-hand versus having to continually run to the grocery store each time I need one." Katie McKinney, Simply Texas Real Estate.
"Being able to literally have a box of gift cards whenever you need them, on file, for any given occasion is amazing." Jeremy Dewbre, Farrow & Dewbre Orthodontics.
"Card Now is very easy to use. We like the flexibility and the variety it offers our patients.  The support team has been very helpful and attentive.  I would highly recommend it." Michelle Bebe, Total Orthodontics.
"CardNow has been so helpful with saving me time and money. Our office used to have a bunch of different gift cards that we paid for up-front, but now we don't have to spend money until we need to use the cards." Elena Black, Appalachian Orthodontics of Lynchburg.
"CardNow is a real game-changer for businesses like my own. Whether it is rewarding employees for going above and beyond, or offering incentives for referrals, with CardNow, I always have gift cards on hand, and I can load them myself when I need them." Heather Evans, Bodywork RX.
"I really love this program. I use the cards for gifts for family and friends. I also put together a lot of gift baskets for auctions that are used for my volunteer work with the Price Frederick VFD and my local Hospice (Calvert Hospice) organization. I often realize at the last minute I need a gift card for them, and this program is perfect. I think the app is great. It's also easy to use. And ordering replacement cards on the app is greatly appreciated. "Karen Sharpe, Calvert Hospice.
"We use CardNow to reward team members and as a way to recognize staff that go above and beyond. It's always great to be able to say thank you, or make a pay out for meeting a goal right away. It makes a huge difference to the recipient and the whole team sees the value of their hard work right away. CardNow makes it easy to always be ready to create that appreciation moment when I need them." Jason Hall, Boise Route Works, LLC
"As a busy professional, CardNow has saved me valuable time by allowing me to skip the store every time I need to send a gift card. It is so easy and convenient to have gift cards handy to activate and send or email at a moment's notice. It is such a great asset, I have recommended this service to several friends and colleagues." J.C. Young, Director of Decision Support & Analytics for a health care system.
"The CardNow service makes it easy to always be ready. I travel quite a bit, and when you meet family and friends on the road, you can find yourself at a gathering for a special occasion and not have a gift! I always keep a few cards with me, and the CardNow app makes it easy to just activate one for that last minute gift." Brent Gunn, SWA.
Demographics
CardNow has a brand for every demographic.
Customization and Personalization
While the cards are not customizable, resellers can easily create customized carriers or envelopes in which to give them.
Reseller Policies
Depending on the quantities and payment terms, resellers, companies, and charities can receive a small percentage of the money charged on the activated cards. They can also create other profit opportunities through custom carriers and envelopes.
Product Lines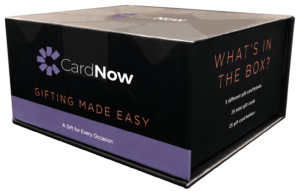 Inactive cards are provided in Starter Boxes of 25 cards and in Starter Packs of 10 cards. The CardNow Gift Card can be redeemed at more than 75 retailers.
CardNow currently features cards from the following restaurants and retailers. Click here to get the latest list.
1-800FLOWERS.com, Adidas, Aeropostale, Amazon, AMC Theaters, American Eagle Outfitters, Applebee's, Atom Tickets, Auntie Anne's, Banana Republic, Barnes & Noble, Bass Pro Shops, Bath and Body Works, Belk, Big Lots, Bonefish Grill, Buca Di Beppo, Buffalo Wild Wings, Burger King, Cabelas, California Pizza Kitchen, Carrabba's Italian Grill, Carvel, Chili's, Cinnabon, Coffee Bean & Tea Leaf, Cold Stone Creamery, Columbia Outfitters, Cracker Barrel, Darden, Dave & Busters, Domino's Pizza, Door Dash, DSW Express, Fandango, Firehouse Subs, Fleming's Steakhouse, Gamestop, Gap, Google Play, Grubhub, Home Depot, Hotels.com, Jama, Jiffylube, Kohl's, Krispy Kreme, Landry's, Logan's Roadhouse, Lowe's, Macy's, Maggiano's Little Italy, McAlister's Deli, McCormick & Schmick's, Moe's Southwest Grill, Nike, Noodles & Co., Omaha Steaks, On the Border, Outback Steakhouse, PF Chang's, Panera Bread, Papa John's, Peet's Coffee, Ray-Ban, Red Lobster, Red Robin, Regal Cinemas, Sally Beauty, Schlotzsky's Deli, Seamless, Sephora, SiriusXM, Spafinder, Starbucks Coffee, Subway, Taco Bell, Texas Roadhouse, The Cheesecake Factory, TJ Maxx, Top Golf, Uber, Ulta Beauty, Under Armour, White Castle, Xbox, and Yankee Candle.
Contact
Matthew Frye
Chief Executive Officer
---