Founded: 2009
Primary Products and Services
Premium Custom Menswear.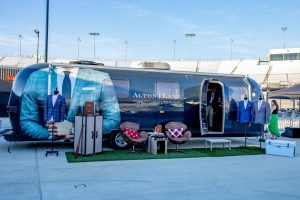 Experiential events: 
Alton Lane offers multiple options for fitting experiences for men and women. Because each item is custom fit and made to order, the showroom or event boutique can feature all the fabrics, styles, and sizes needed for the fittings. Organizations can host events at hotel, resort or convention center meetings, at any of Alton Lane's 12 comfortable showrooms, or in the company's custom-restored 1978 Airstream, equipped with a 3-D scanner and a canopy for outdoor entertainment that can be driven to almost any location in the lower 48 states.
Bespoke Corporate Apparel: Organizations can create their own bespoke "lines" and "label" for suits, blazers, and sportswear, enabling employees or members to select the styles, fabric and fit that's right for them. Custom fittings can take place at organizational events such as incentives, gifts, or fundraisers, or even family or other social gatherings.
Company Story
Alton Lane was founded by Colin Hunter and Peyton Jenkins, who left their jobs in management consulting and real estate to create a new type of clothier for men who want to look their best: an affordable custom experience for the selection of suits, blazers, formal wear, trousers, shirts and shoes at 12 comfortable showrooms on the East Coast and in the South. The company's brand promise is to help people look, feel and be their best.
Brand Personality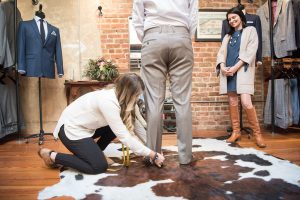 Alton Lane offers an enjoyable shopping experience designed around each customer. From attentive service to custom clothing that truly fits, Alton Lane's personalized approach puts the wants and needs of customers first. The brand values are welcoming, empowering, innovative. The brand personality is inviting, cool and confident, genuine and inspiring
Buyer Persona
• People who want to feel confident that they look their best in every situation, whether for personal or business reasons.
• Someone who appreciates personalization of both experience and product. People who want their clothing to express who they are.
Demographics
Age: The age range of the customer skews from the individual purchasing a suit for their first interview all the way to the seasoned executive preparing for a board meeting.
Income. Alton Lane's customer is generally a professional with higher-than-average income who wears suits, blazers, or more casual attire for business, entertainment, or special occasions.
Customization and Personalization
Because all of Alton Lane's apparel is custom made, organizations can select specific combinations of fabrics, patterns and styles, as well as create a label with their own brand name. What makes Alton Lane unique is that organizations can give recipients the ability to select from a range of related fabrics or patterns and yet retain their own sense of style and fit through the custom-fitted experience.
Event Gifting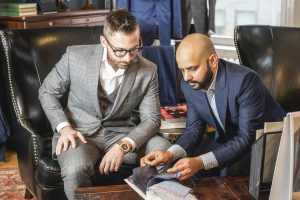 Alton Lane can set up a pop-up boutique at a hotel, resort, or convention center and can close any of its 12 showroom locations for a private event with drinks and catering. Alton Lane's showrooms are located in 11 popular locations, including Atlanta, Boston, Charlotte, Charlottesville, Chicago, Dallas, Nashville, New York City (Flatiron District and Tribeca), Raleigh, Richmond and Washington, DC. Most of the showrooms have small "secret" rooms for very small groups that can be catered as well.
Alton Lane's most unique event feature is a custom-restored 1978 Airstream that can be set up almost anywhere, including sporting events and convention halls. It includes an outdoor canopied lounge, indoor TV and bar.
Customers can select from styles and fabrics with the help of stylists, which are carefully measured and fitted with the aid of a 3-D scanner, and then produced to the exact measurements in Europe and Asia and delivered to the Alton Lane Showroom or the customer's home with best-in-class turnaround time.
Where to Source
As a new company to the market, all inquiries are handled by Alton Lane. In the coming months, the company will be developing a program for promotional products and other event, incentive, recognition and loyalty companies.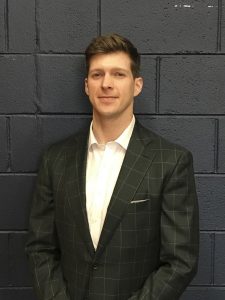 Alton Lane is committed to supporting its marketing partners with pricing advantages and customized sales and marketing materials to help their clients benefit from this unique gifting, incentive, or fundraising program.
Contact
Baxter Gilliam
434-260-0859
When contacting a BMC supplier, be sure to say you are a Brand Media Specialist or calling from BrandMediaCoalition.com.
Or, contact the Brand Media Coalition for confidential requests.
---