Founded: 1981
Primary Products and Services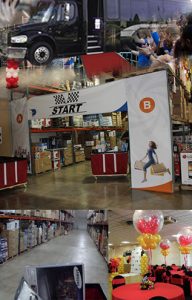 Harco is a master distributor of the world's most prestigious and in-demand brands, with access to advanced product information and the latest new products – more than $20 million in inventory in stock to ensure fast drop-shipping. Leading brands include Samsung, Apple, LG, Sony, Canon, Nikon, Fuji, Dyson, Amazon, Google, Cuisinart…more than 300 brands in all major categories: Electronics, Housewares, Small appliances, Personal care, Trend/novelty items, Licensed team items, Sports memorabilia, etc.
Company Story
Harco provides full-service solutions to support the needs of incentive, loyalty and recognition companies helping their corporate clients enhance loyalty and engage and improve performance of their targeted audiences. We achieve this through an optimal combination of 4 key components:
Human Capital — attracting the best talent in the industry
Technology — using innovative and flexible IT platforms
Environment — minimizing the carbon footprint of our processes and products
Social Responsibility — supporting charities that support infrastructure-building and fighting poverty.
Demographics
Knowing the right way to express thanks and reward loyalty and performance means finding just the right gifts and rewards that appeal to a specific audience. We offer products that appeal to any age group, gender, experience level, interest and status.
Customization and Personalization
Harco dedicates itself to matching products to people, selecting the right products and brands, and creating the right collections to reinforce your company mission, workplace culture and brand image. Our Premium Dash event is a shopping spree in our 62,000-square-foot warehouse with unlimited access to thousands of name-brand products designed to be a dream come true for top performers. Services include pad printing and laser engraving, as well as personalized letters and custom packaging.
Reseller Policies: HARCO Incentives is committed to supporting all resellers seeking to provide their customers with exceptional service and support. Our clients benefit from our decades of industry experience in all aspects of rewards, gifts and promotions for any organizational application, as well as our extensive industry relationships and buying power.
Contact
Ed Hearne
Director Client Success
Harco Incentives
201-894-8941, ext. 150
When contacting a BMC supplier, be sure to say you are a Brand Media Specialist or calling from BrandMediaCoalition.com.
Or, contact the Brand Media Coalition for confidential requests.
---